Yazaki Group's Automotive Business
In the automotive business business, we are advancing research and development that will support the future mobility society through the "connecting technologies".
Focusing on wire harnesses (for vehicles) and meters, we pursue technology to reliably and accurately transmit power and information to where it is needed. We offer a wide variety of products that connect the "inside of the car," "people to cars," and "society to cars."
Yazaki is an automotive infrastructure supplier
What is car infrastructure?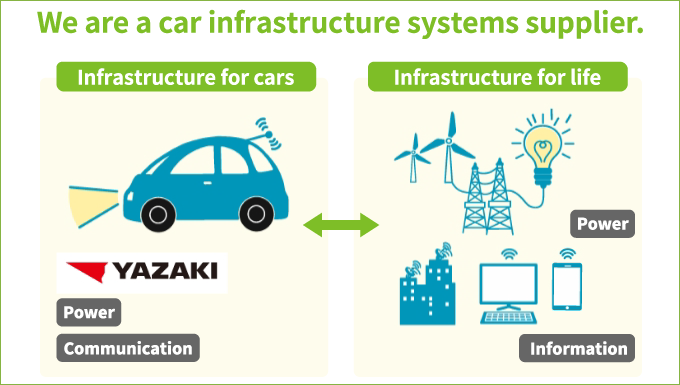 Infrastructure is what "underpins" your life. For example, when you cook, when you take a bath, the power, gas, and water infrastructure are essential. Communication facilities are also essential when using smartphones.
Now, let's look at the car. When the car is running, when the wipers are running, and when the lights are turned on, information needs to be communicated through power distribution and communication.
Yazaki Group's technology and products support safe, secure and comfortable driving through vehicles.
What is EEDDS?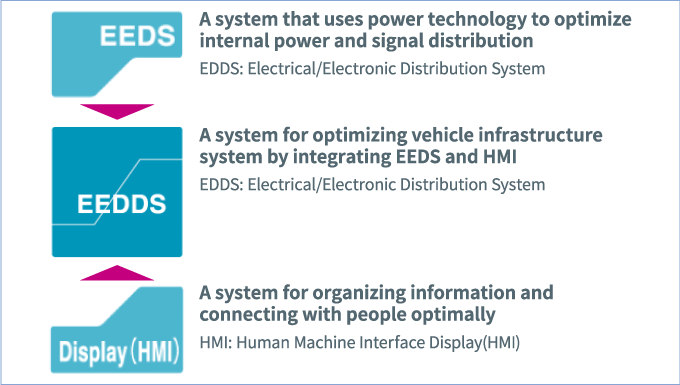 EEDDS - technology that reliably and accurately conveys the information and power needed for a vehicle
This technology consists of the EEDDS, which optimally distributes and connects power and information inside the car, and the HMI, which optimally conveys a variety of information inside and outside the car to the driver, in order to realize an advanced electrical system that will accompany the advanced functionality of the car. The EEDDS, a fusion of the EDDS and HMI, connects not only the inside of a car, but also a car to outside and a car to a person.
Video on EEDDS
EEDDS Solutions
This video introduces Yazaki's solutions to the changes in ECU and other electrical and electronic equipment and the networks connecting them as CASE and MaaS evolve.

EEDDS - EEDDS - Electrical/Electronic Distribution & Display System
EEDDS - Power Distribution and Signal Transmission -
EEDDS - it's a technology that delivers power and information reliably, accurately, where it's needed.
This technology consists of the EEDS, which optimally distributes and connects power and signals inside the vehicle, and the HMI, which optimally communicates a variety of information inside and outside the vehicle to the driver, in order to realize an advanced electrical system that will accompany the advanced functionality of the vehicle.
The EEDDS, a fusion of the EEDS and HMI, connects not only the inside of a vehicle, but also a vehicle to a person and a vehicle to a life.

EEDDS - Electrical/Electronic Distribution & Display System