A rice paddy of Arrow Warm Oita (2015)

Centennial Shochu Project
The Yazaki Centennial "Shochu" Project, a commemoration of Yazaki's 75th Anniversary
Yazaki employees took on the challenge of growing rice and producing rice shochu in Saiki City, Oita Prefecture.
Project details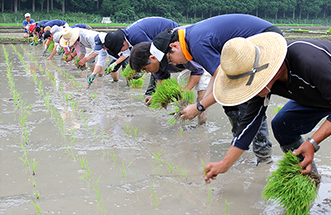 1. Hands-on experience planting rice
Eight Yazaki Group employees from around Japan tried their hand at planting and harvesting "Hinohikari" rice in a paddy field (measuring approximately 29,750 m2) operated by Arrow Farm Oita in the Nishino district of Katata, Saiki. Nishino residents also helped out with the farm work. In October, students belonging to an "inventors' club" in a Saiki elementary school also worked side-by-side with the Yazaki Group employees to harvest the rice. After the harvesting was done, the inventors' club members took a tour of Oita Parts Factory. A total of 1.5 tons of the harvested "Hinohikari" rice was delivered to Bungomeijyo in Naokawa, Saiki.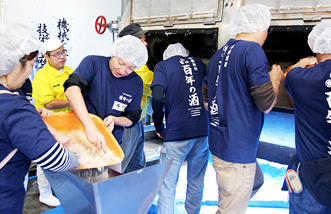 2. Hands-on experience making shochu
The Yazaki employees helped make rice shochu with the harvested Hinohikari rice at Bungomeijyo. In November, they participated in the "secondary preparation" process, where they added water to the primary fermenting mash and mixed it with steamed "Hinohikari" rice. They then separated the fermented mash into two portions, one of which was distilled under reduced pressure, and the other was distilled at normal pressure. In December, they bottled and labeled the shochu that was distilled under reduced pressure. This shochu is being presented to customers and used in other ways as "75th Anniversary Shochu." As for the shochu that was distilled at normal pressure, the employees bottled and labeled it in March. This shochu will be matured for 25 years and opened as "Centennial Shochu" when Yazaki Corporation celebrates its 100th anniversary in 2041.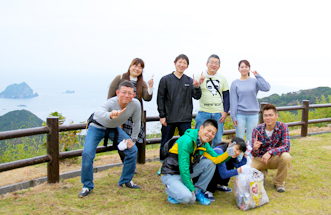 3. Saiki Cleanup Operation
This project, in which eight Yazaki Group employees grew rice and produced shochu over the course of six sessions, would have never succeeded without the cooperation of Saiki's residents. Thus, as an expression of gratitude to everyone in the city, the employees engaged in morning cleaning activities under the name "Saiki Cleanup Operation" on the Saturday workdays and the following Sundays. These activities took place in various areas of Saiki City, including the districts of Shiroyama, Kamae, Tsurumi, Ume, Naokawa, Honjo and Yayoi. The garbage that the employees collected in the "spirit of service" was disposed of with cooperation from the Saiki City Office.