We are the Yazaki Group of trust, which supports society everywhere.
In your car, home, and city, the Yazaki Group's products support your safety and comfort. We have developed a wide variety of products, from automotive wire harnesses to electric wires, gas appliances, air conditioners and solar thermal appliances. In addition, we are taking on new businesses centered on nursing care and eco-businesses.
The common concept of the Yazaki Group's products is "connecting." By connecting vehicle devices, people's lives, and society, we will realize a prosperous future. The Yazaki Group will continue its challenge to be "a corporation in step with the world" and "a corporation needed by society."
Message from the President
Aiming to be "A Corporation in Step with the World" and "A Corporation Needed by Society"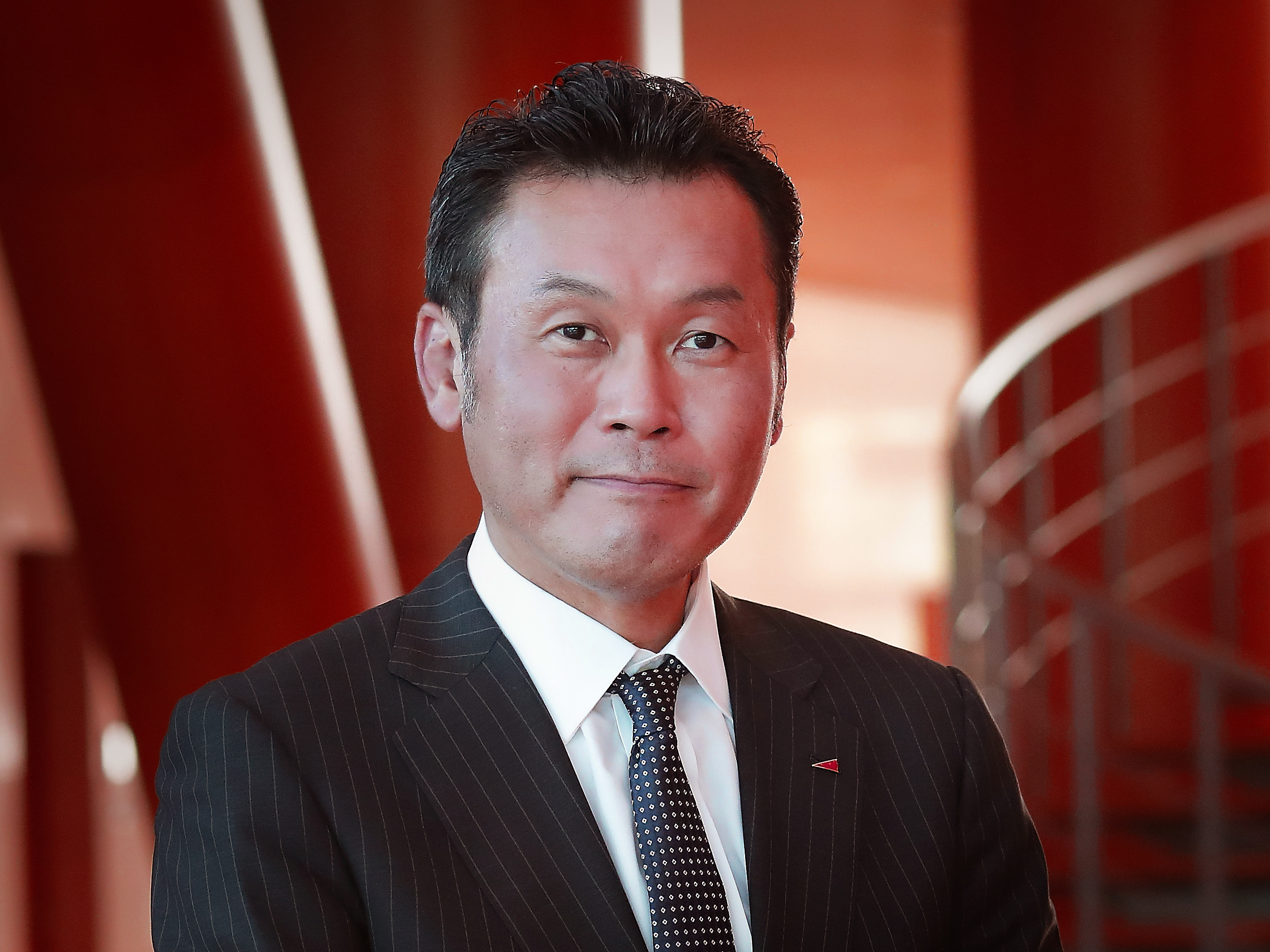 Since its founding in 1941, Yazaki Group has operated under the company motto of "A Corporation in Step with the World" and "A Corporation Needed by Society" and with the desire to contribute to society through its manufacturing and other businesses.
Even in the current difficult business environment, we believe that our customers and business partners can speak to us because of our business performance, and because they appreciate our philosophy and attitude toward our work. We will continue to strive to meet your expectations. Yazaki Group deals in a wide range of products closely related to people's lives, including air conditioners, solar appliances, gas appliances, electric wires, and automotive components, mainly wire harnesses and electronic parts (for vehicles). We are also focusing on businesses that support the realization of the future mobility society represented by CASE, a new trend in the automotive industry, and business areas such as AI-assisted safe driving. These products and services make effective use of the earth's limited resources. Now that awareness of environmental protection is growing worldwide, we will continue our business activities in accordance with our corporate motto, with a view to coexisting with the global environment more than ever before.
Yazaki Corporation President and Representative Director Riku Yazaki
Yazaki Group Company Profile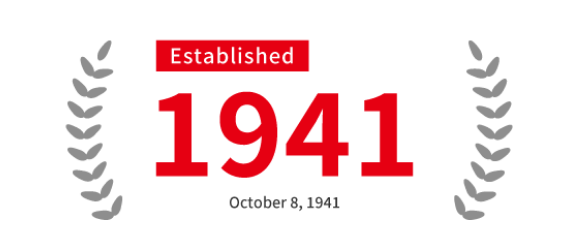 Countries with bases
46countries and regions of
Capital
3,191.5million JPY
Amount of sales
2,269.7billion JPY
Capital
3,191.5million JPY
Amount of sales
2,269.7billion JPY
Company name

Yazaki Corporation

Establishment

October 8, 1941

Representative

Riku Yazaki, President and Representative Director

Address

Head Office
W Building 7F, 1-8-15, Konan, Minato-ku, Tokyo 108-0075
Y-CITY
1500 Mishuku , Susono City , Shizuoka 410-1194

Capital

3,191.5 million JPY

※ Yazaki Corporation is a privately held company.

Group companies

Yazaki Meter Co., Ltd. (established in 1950)
Yazaki Parts Co., Ltd. (established in 1959)
Yazaki Energy System Corporation ※1

Number of Group corporations ※2and3

Domestic: 45
Overseas: 96
A total of 141 corporations

Number of Group employees ※3

Domestic: 17,961
Overseas: 217,593
Total of 235,554 employees
※1 Established as Yazaki electric wire corporation in 1963 and changed its trade name in 2012.
※2 Number of corporations and employees refers to YAZAKI Corporation and its domestic and overseas consolidated subsidiaries, excluding equity method affiliates, non-consolidated subsidiaries, affiliates and related foundations.
※3 The number of employees includes regular employees, junior employees, employees seconded from other companies, temporary employees, and reemployed persons.
Accepted assigned employees include those seconded from outside the Group to the Group, excluding those seconded from our Group to outside the Group.
Yazaki Energy System Corporation
Company name

Yazaki Energy System Corporation

Establishment

Established as Yazaki electric wire corporation in 1963 and changed its trade name in 2012.

Representative

Ko Yazaki, President and Representative Director

Head Office

108-0075 
W Building 7F, 1-8-15, Konan, Minato-ku, Tokyo

Tel

03-5656-2004

Capital

310 million JPY
Company name

Yazaki Meter Co., Ltd.

Establishment

August 1950

Representative

Riku Yazaki, President and Representative Director

Head Office

Headquarters
108-0075
W Building 7F, 1-8-15, Konan, Minato-ku, Tokyo

Tel

03-5656-2000

Capital

100 million JPY
Company name

Yazaki Parts Co., Ltd.

Establishment

June 1959

Representative

Riku Yazaki, President and Representative Director

Head Office

108-0075
W Building 7F, 1-8-18, Konan, Minato-ku, Tokyo

Tel

03-5656-2000

Capital

50 million JPY
Yazaki Group's development, manufacturing and sales structure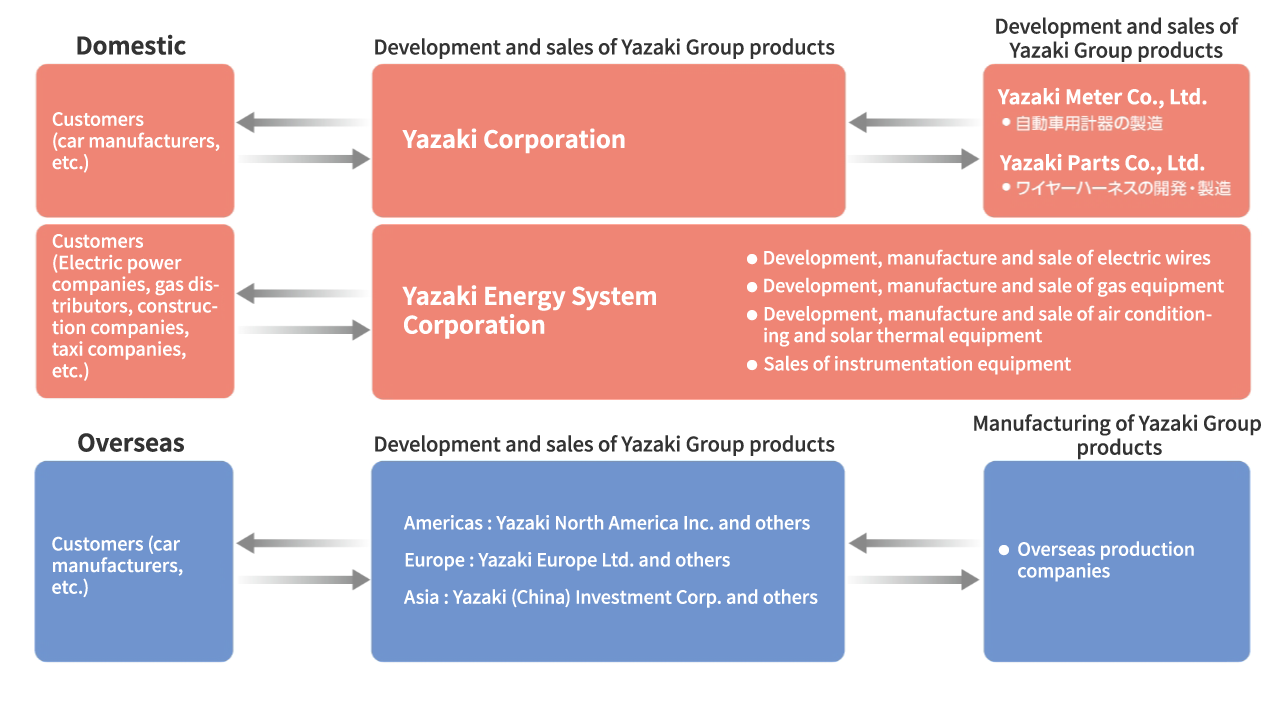 Consolidated sales trends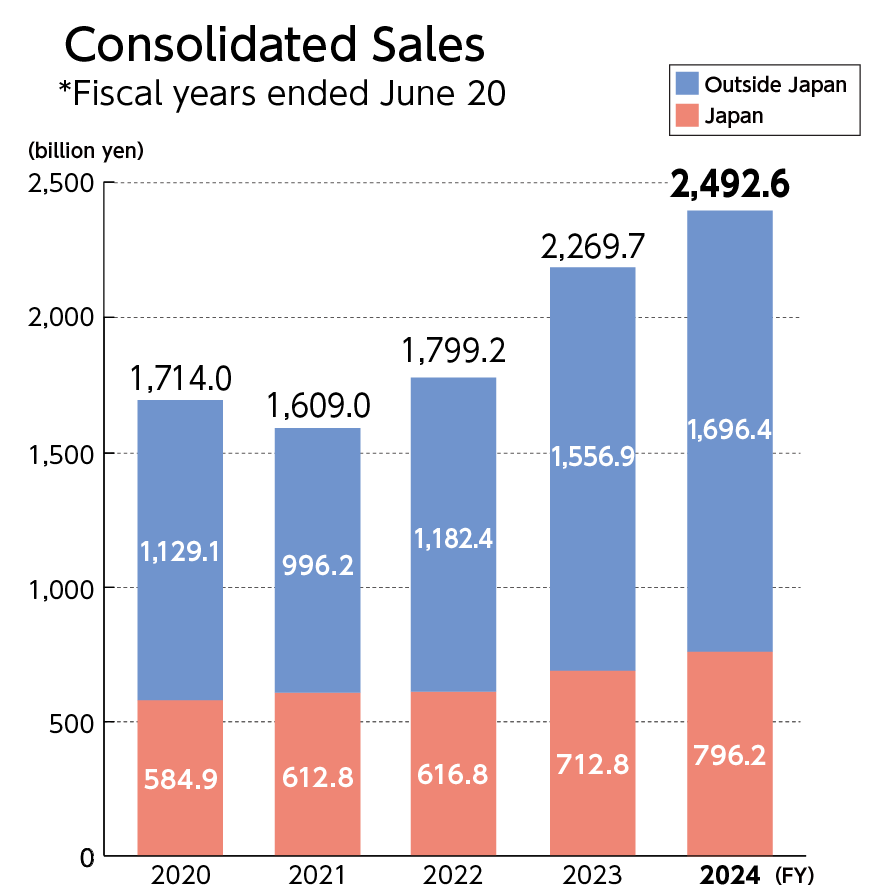 Consolidated sales ratio by region